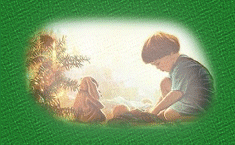 ~"Christmas Wishes"~
Dear Santa


My name is Billy
And Iím almost seven;
I live with my Daddy,
My Mamaís in Heaven.
We donít have much money,
We canít have a tree;
So I wonít ask for presents,
At least not for me,

Cause Iím really too old
To believe anymore,
But Ben, heís my brother,
And heís only four--
Heíd like a red wagon;
He thinks they are neat
Ever since he saw one
On Sesame Street.


And my Daddyís too sick
To work anymore,
He sometimes walks funny
And falls on the floor;
But he does need some boots
To put on his feet
When heís out late at night
And thereís snow in the street

And, honest, dear Santa,
Iíve tried to be good.
I do all the things
A little boy should.
I get Ben his breakfast
Most days, as a rule,
And take him next door
When I go to school.

And I try not to listen
To folks when they say
My Daddyís just drinkiní
His whole life away.
They donít understand,
But itís easy to see,
He just misses Mama
Even more than me.

So I help him in bed
When he comes home at night,
I tuck him in good
And turn out the light.
And finally, dear Santa,
Thoí I know youíre not real,
I just want to tell you
How lonely I feel.

And if on this Christmas
Our house you are near,
Iíll leave you a cookie
And maybe some beer.
If youíd just bring the wagon
And boots for my Dad,
Youíd make it the best Christmas
A boy ever had.

And if youíre in touch
With those folks up above,
Tell Mama I miss her,
And send her my love.
©Linda Newman
GramLin99@aol.com
All rights reserved.





© Linda Newman
Used with permission