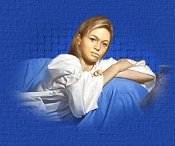 Why Do They Turn Away?


Why do they turn away from me--
These people in their sheltered worlds?
I do not wish to harm them--
Only love them.

Is happiness and love so precious
That it is too dangerous to share?

Are we all self-centered creatures
Capable of loving ourselves only,
Hoarding our own bits of happiness
Like precious gold?

Are we incapable of sharing this with others?

Donít they realize that happiness,
When shared, is doubled?

And love, when given to someone else,
Comes back even stronger?

But happiness and love, like wealth,
Must be attained before it can be shared.

And some are never even given a chance.

Men can live without wealth,
But few can survive without happiness and love.

Oh, my brethren, I do not wish to harm you--
Only love you!

I do not want your wealth--
Only a share in your happiness!

Why do you turn away from me??


~ ~ Linda E. Newman © ~
Used with permission
Read more of Linda's poetry Here